The CDC has admitted that between 1955–1963 over 98 million Americans received one or more doses of a polio shot which was contaminated with a cancer-causing virus called Simian vacuolating virus 40 (SV40).  The CDC quickly took down the page, along with Google, but the site was luckily cached and saved to symbolize this grand admission.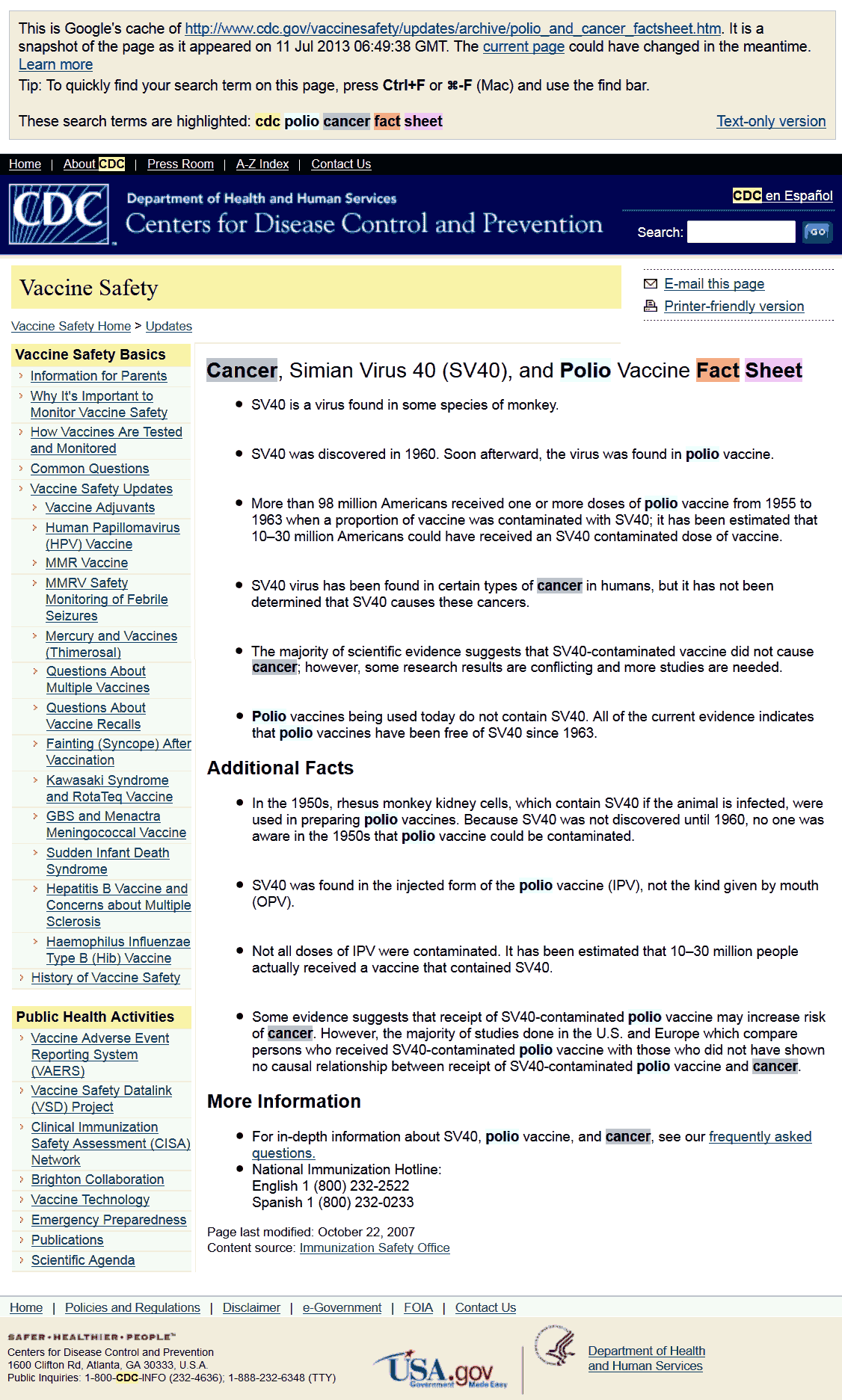 To further confirm this unbelievable admission, Assistant Professor of Pathology at Loyola University in Chicago Dr. Michele Carbone has been able to independently verify the presence of the SV40 virus in tissue and bone samples from patients who died during that era. He found that 33% of the samples with osteosarcoma bone cancers, 40% of other bone cancers, and 60% of the mesothelioma's lung cancers all contained this obscure virus. This leaves the postulation that upwards of 10–30 million actually contracted and were adversely affected by this virus, to be deadly accurate.
Source: InvestmentWatchBlog.com
Related articles: Vaccines

We do the research you decide,
Love and Light
The Healing Oracle Team
Please join our growing numbers on
MeWe
:
Healing Oracle
Also join us on
Twitter
|
YouTube
Global Petition
Please
sign our global petition against enforced vaccinations
The intention of this petition is to present 5 million signatures to each President, Prime Minister, Health Minister and heads of state worldwide.
Vaccines are a global problem and need to be tackled on a global level.
If we stand as one, we have a chance of saving the children of the future.
Keep Us Advertising Free
Healing Oracle is made possible by the support of its readers. If you find the posts and resources useful, please consider making a contribution to support us (in any amount) so we can continue to inform and assist people around the world. We feel that giving a voice to those who have transformed their health, or that of a loved one, with alternative treatment is an important mission. Thank you for valuing our work and helping it to continue.
Donate. Should you choose to kindly donate towards our time and efforts, please use the 'donations' box above on the top right hand side
(on Desktop)
, or the donations box below
(on Mobile)
[social_warfare]